The Johnson & Johnson Medical Devices Companies* today announced the results of an Ethicon** clinical study showing that its LINX Reflux Management Systemopen, a small band of magnetic beads that surgeons wrap around the esophagus to treat gastrointestinal reflux disease (GERD), was significantly more effective in relieving symptoms and improving quality of life than taking twice-daily acid suppression drugs.
The CALIBER study, the first randomized controlled clinical trial to compare the anti-reflux procedure to proton pump inhibitors (PPIs), the standard of medical care for GERD treatment, was published in GIE: Gastrointestinal Endoscopy, the peer-reviewed journal of the American Society for Gastrointestinal Endoscopy (ASGE).
According to the National Institute of Diabetes and Digestive and Kidney Diseases (NIDDK),open_in_new about 20 percent of the U.S. population suffers from GERD, whose primary symptoms include chronic heartburn and persistent regurgitation.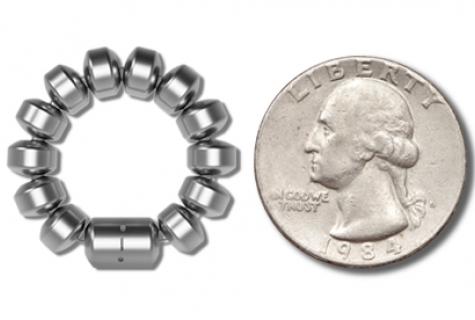 In the CALIBER study, patients with GERD and moderate-to-severe regurgitation despite eight weeks of treatment with once-daily omeprazole, were randomized to either receive twice-daily doses of the PPI or undergo a minimally invasive procedure with the LINX System. The study found:
•    89% of patients treated with LINX achieved relief from moderate to severe regurgitation compared to 10% of patients treated with twice-daily omeprazole (p<0.001)
•    81% of patients treated with LINX achieved >50% improvement in GERD-HRQL score (a quality of life measure) compared to 8% of patients treated with twice-daily omeprazole (p<0.001)
•    Normal number of reflux episodes was observed in 91% of patients treated with LINX compared to 58% of twice-daily omeprazole (p<0.001)
•    81% of patients treated with LINX reported satisfaction with their current condition versus 2% of patients treated with twice-daily omeprazole
The LINX System works by correcting a mechanical failure in the lower esophageal sphincter (LES), the body's natural barrier to reflux. The magnetic band expands when a patient swallows to allow food to enter the stomach but then contracts to prevent stomach contents from flowing back into the esophagus.
"It is sometimes said that GERD patients who don't respond to medication will not do well with surgery. This study demonstrated that patients experiencing regurgitation despite proton-pump inhibitor therapy actually did extremely well with an anti-reflux procedure, magnetic sphincter augmentation, using the LINX device. When the physiology of GERD is recognized – that it is due to a mechanical defect in the sphincter – it makes sense that patients would indeed respond to the procedure," said Reginald C. W. Bell, MD, FACS,τ study co-author and a gastrointestinal surgeon at Institute of Esophageal and Reflux Surgery in Englewood, CO.
"This study demonstrates the LINX System offers significant advantages over medical therapy in patients with GERD who suffer with regurgitation," said Michael del Prado, Ethicon Company Group Chairman. "Ethicon will continue to generate clinical and real-world evidence that enables clinicians, patients, insurers and health systems to make the best possible decisions about which treatments work best for which patients."
The LINX System is an effective treatment option that preserves gastric anatomy, establishes normal physiological function, and is reversible. The LINX System is available in the U.S. and throughout Europe.
The LINX Reflux Management System is indicated for those patients diagnosed with GERD as defined by abnormal pH testing, and who are seeking an alternative to continuous acid suppression therapy. LINX requires a surgical procedure and is associated with potential risks, contraindications and life style modifications.
---
References